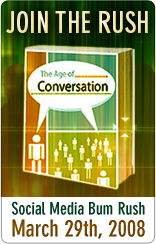 Today's the day to get your copy of The Age of Conversation.
What?
The Age of Conversation is a book co-authored by over 100 of the world's leading marketers, writers, thinkers and creative innovators. Each of them wrote 400 words on the theme of 'conversation'. If the names David Armano, Roger von Oech, Tony D. Clark and Mark Earls ring any bells, you'll have an idea of the standard of writing you can expect.
Why?
Not only is the book a cracking read, but all the profits go to help children's charity Variety achieve its mission of improving the lives of children around the world.
Why today?
Because Today (Sat 29th March) is the day that Drew McLellan and Chris Wilson are orchestrating a campaign to drive sales and push The Age of Conversation up the Amazon bestseller charts. They're doing this via blogs and social media services such as Twitter, Facebook, Digg and Stumbleupon.
What else can I do to help?
Very nice of you to ask. After you buy your copy of the book, go to Chris Wilson's post and Digg it. Then have a read through his list of easy ways to help and do whichever ones you can.
What's a bum rush?
I've no idea, but it's for charity so let's do it!